School Percussion Residencies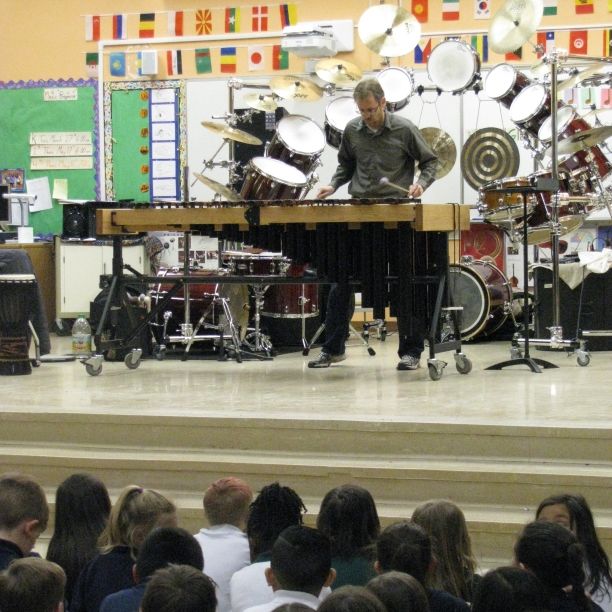 Kindling the Flame
Using drumming to show students the path to mastery
I love presenting through performance. It's an amazing opportunity to share music with others in an incredibly impactful way. We get to share the mutual energy that sparks as we interact through music, and nothing's more rewarding than seeing in listeners' eyes the familiar dawning of comprehension: "Wow! I didn't know this kind of thing existed - I didn't know that life could be so rich." My great privilege as an educator is really to be a fellow traveler with those I teach, exploring life and pointing out worthwhile paths and scenic views to those journeying with me in that moment.
My own life journey in percussion began from such a "kindling moment": an assembly at my own elementary school featuring an engaging group of skilled drummers. While that very visceral experience deeply affected me, instantly converting me into an aspiring drummer, the subsequent lessons I've learned along this journey - especially as an always-learning teacher - have been even more impactful. Through years of teaching, reinforced by studying with master teachers across the USA, I've come to see each person I meet as possessing awe-inspiring potential. My goal as a teacher and presenter is to help my students and audiences recognize that potential and to nourish it, to encourage them to seek mastery of worthy skills, to glimpse the possibilities that lie beyond their own self-limitation.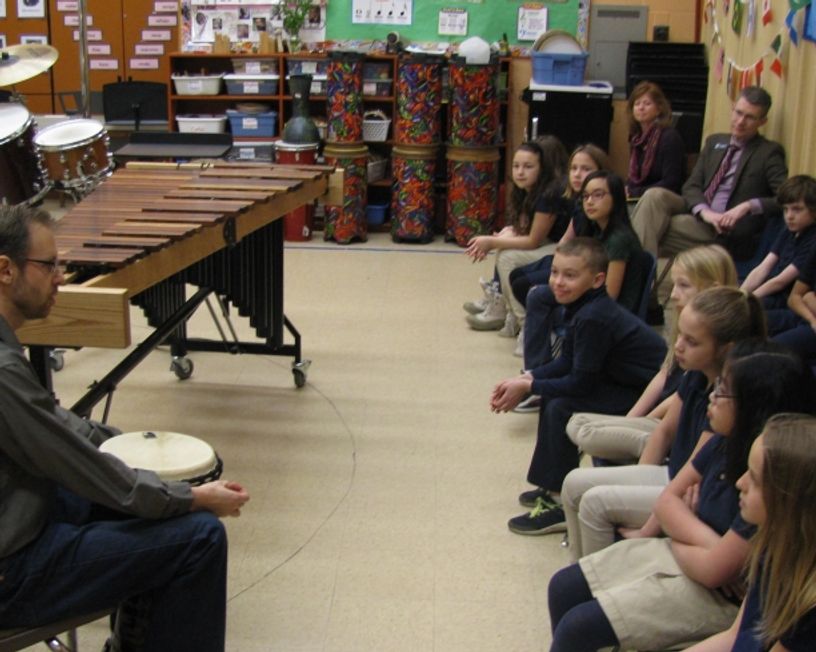 School residencies are a great way to ignite and inspire many students at once, broadening and brightening their lives through a musical and educational experience that blows away their expectations and evokes astonishment. With the aid of energetic, colorful, often beautiful music I perform on my sprawling percussion instrument setup, my audiences and I explore not only the art of drumming, but what the drumming we do together teaches us about our potential for excellence and redefining ourselves. Perhaps the best part is that we have a lot of fun making (rhythmic) noise together! Depending upon the school and its interests and needs, residencies may feature assemblies, classroom visits, ensemble coaching, or a mixture of these. Pricing begins at $500 and depends upon location, residency features, anticipated time involved (including follow-up resources), and any offsetting via subsidies from current grants*.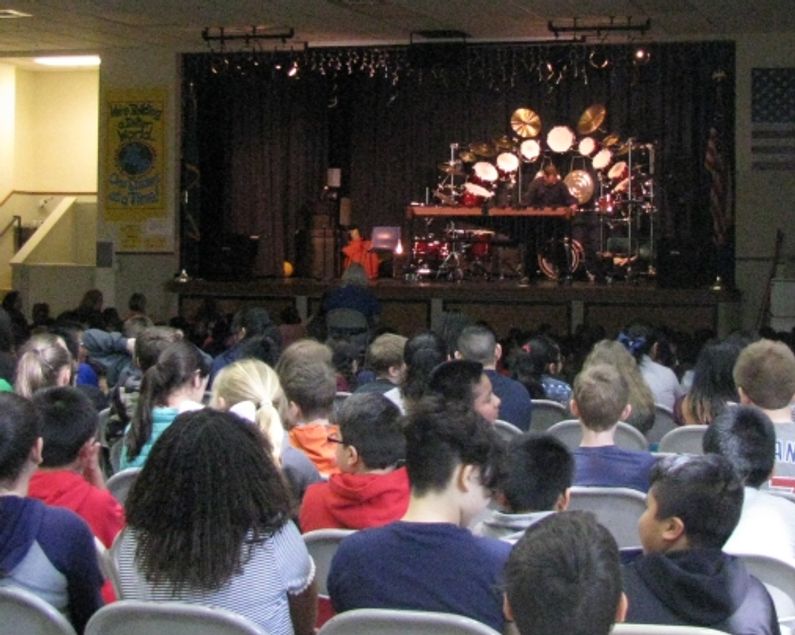 If this sounds like a transformative, memorable experience for your school's students, please contact me and let's talk about how we can work together to make it happen in the best way possible for your school.  I look forward to partnering with you!


*This project receives fiscal sponsorship under the umbrella of the nonprofit Whidbey Island Arts Council in the state of Washington and is eligible for nonprofit grants and tax-deductible charitable donations.Add text